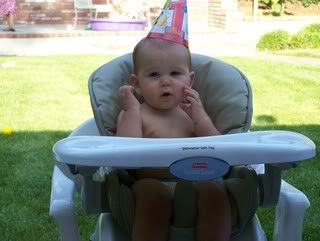 Yesterday we celebrated Noah's first birthday with friends and family at his first birthday party. We had so much fun! I was a little nervous because Noah had been sick the past three days and unfortunately his naps yesterday were about 1/2 hour each. He usually takes 2 naps that are between 1 1/2 and 2 hours and occasionally a 45 catnap in the evening and he is in bed by 7 pm. Yesterday, he took 3 naps that were 1/2 hour and was obviously not feeling well. I now know the remedy for his infirmities...a big party with lots of balls and lots of friends!! As soon as he was outside he forgot how yucky he was feeling. He had some moments, but for the most part he did OUTSTANDING!!!
I decided to go with a monkey/banana themed party...it wasn't overly thematic, but I wanted there to have bits and pieces of monkeys here and there. I ordered some super cute monkey invitations from
vista print
; I highly recommend them. Here is a picture of the invitations:
We had the party at our friends house. They have such a beautiful, large backyard with plenty of shade space, a covered patio and lots of room for kids to run around. Since both sides of the family came out for Noah's party along with all his other little buddies from church and Temecula, we needed some space for kids. We had 2 inflatable basketball hoops for the bigger kids, but the little ones had just as much fun! I think my niece Isabella has a promising future in sports: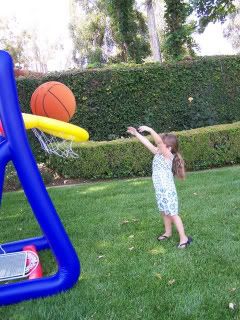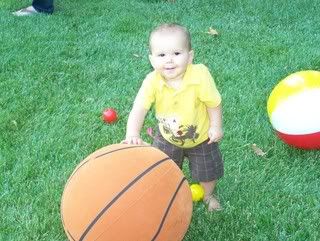 We also had a mini pool filled with ball pit balls...the kids had alot of fun with that, especially with the younger ones. As you can see, the big kids enjoyed it too: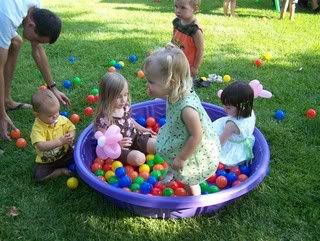 Add a couple soccer and beach balls and the kids had a fun time keeping busy. Since we work with youth, we had most of this stuff right at our fingertips, one of the great benefits of JH ministry...:). Finally, we had a friend come and do balloon animals/flowers/swords/hats for the kids. Now that was a big hit!! The oldest kids were just under 5 and I would say that the 2 1/2-5 year olds had the most fun with this. Thanks again, Adam, for coming out!! We love you!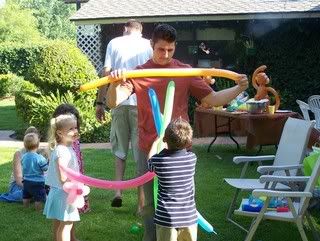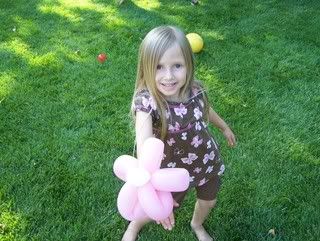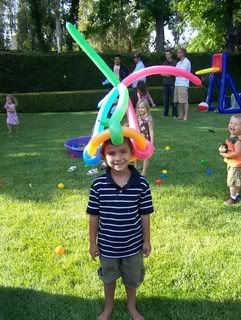 Part 2 will be posted in the next day or so....